Bike transport services in Patna contact number
| Branch | For Booking |
| --- | --- |
| Patna | +91 9911076600 |
| Head Office | +91 9911071177 |
How to get the best bike courier services in Patna?
Grewal Transport Service, customer satisfaction is our top priority. We offer flexible scheduling options to meet your needs in Patna. Whether you need your bike transported across town or the country, we are here to help. Our experienced team will work with you to ensure that the transportation of your bike is completed on time and to your satisfaction. Grewal Transport Service offers safe and secure delivery of your bike. Trust us for flexible scheduling and efficient transportation solutions in Patna.
We understand that transportation can be a stressful experience, but with Grewal Transport Service, you can rest assured that your bike is in good hands in Patna. Our goal is to make your transportation experience as seamless and stress-free as possible. That's why we offer reliable and efficient transportation solutions designed to meet your specific needs in Patna.
In conclusion, if you're looking for a bike transportation service in Patna, look at Grewal Transport Service. With our focus on customer satisfaction, experienced team, and state-of-the-art equipment, you can trust us to handle your bike with care and get it where it needs to go, on time and in perfect condition. Contact us today to learn more about our services and to schedule your bike transportation in Patna.
Get hassle free bike parcel services in Patna and know how do we courier your two wheeler form Patna?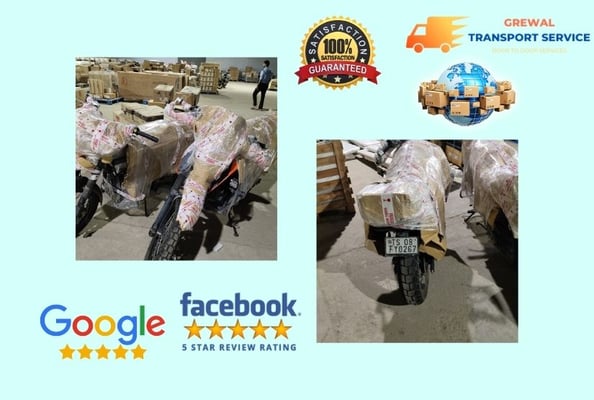 Getting ready to bike move from Patna and having a lot on your plate is not easy. You are looking forward to a fresh start. Bike parcel service in Patna is among those things that you must take care of first - like other things.
It is recommended that if you have more than three bikes, you hire Bike Shifting service in Patna to help you move them as smoothly as possible.
Transporting bikes from Patna through different two wheeler courier companies offers different bike parcel services. The majority of reputable bike transporter in Patna have an online presence.
Make sure you choose two wheeler courier company that provides high-quality 2 wheeler transport by truck in Patna within your budget. Make sure you don't just rely on two wheeler transport price quotes.
For the same, be sure to get input from your family and friends. The insurance of bike transport companies in Patna is very important. It's important to make sure they are since you will be trusting them with the transportation of your bike from Patna. You should ensure that they are GST registered and following the current rules.
How can you hire bike delivery service in Patna?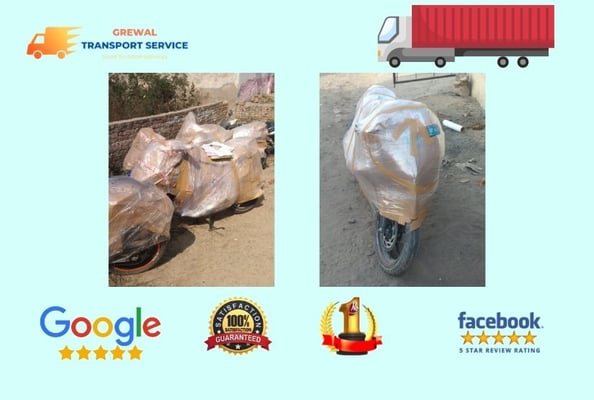 You can visit the website and ask for the quote for bike delivery service in Patna. Once you have the bike delivery services quotes, you will be able to determine the payment methods. Two wheeler transportation companies in Patna usually transfer funds in cash or by credit card.
The lowest rate does not guarantee that bike moving company will deliver on time. Be careful if you are given a low rate by some bike delivery service provider in Patna. It's true what they say: you get what you pay for.
The first thing you should do when searching for two wheeler delivery service in Patna is to identify one. Online bike transport quotes are available to you. When asking for the quotes, just make sure you include the pickup date and delivery date. Your options will be narrowed down if you do this.
Do not skip this step, since this will prove valuable if your bike is involved in any dispute. In fact, you should look over these files during the research step itself, and if anything doesn't seem right, move on to the next company. Many of them, however, will likely share the same terms and conditions.
Find local transporters by us in top Cities of India
FAQ? - Frequently Asked Questions
How does Grewal Transport Service handle the transportation of bikes from Patna?
Our team of professionals handles the transportation of bikes with the utmost care and attention. Grewal Transport Service uses state-of-the-art equipment and technologies to ensure the safety and security of your bike during transit. From loading and unloading to transportation, we take every precaution to prevent any damage to your bike from Patna.
Can I track my bike during transportation?
Grewal Transport Service allows our customers to track their bikes during transportation through our tracking system from Patna. Tracking allows you to monitor the progress of your shipment and have peace of mind knowing that your bike is in good hands.
Does Grewal Transport Service offer flexible scheduling options?
Grewal Transport Service understands that our customers have different needs and schedules, which is why we offer flexible scheduling options in Patna. Our team will work with you to ensure that the transportation of your bike is completed on time and to your satisfaction.
Is Grewal Transport Service insured?
Grewal Transport Service is fully insured to protect our customers and their bikes during transportation. Insurance gives you peace of mind knowing that your bike is protected in case of any unexpected events during transit in Patna.